A HISTORY OF MUSSELBURGH
Musselburgh lies on either side of the mouth of the River Esk, where it enters the Firth of Forth, directly to the East of Edinburgh. Musselburgh gets its name from the Mussel beds that once stretched out across the tidal flats of the area.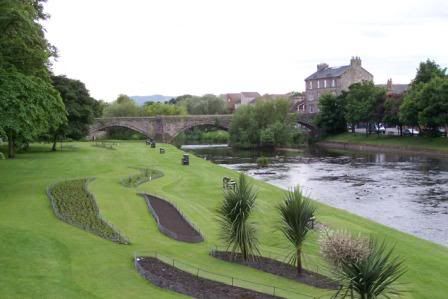 THE ROMAN BRIDGE ON THE RIVER ESK MUSSELBURGH
Musselburgh is one of Scotland's oldest towns.
Musselburgh has a pre-history dating back to the Bronze Age. Just 5 minutes walk is Inveresk village. Recent excavations unearthed a large Roman settlement,sited on the top of the hill, it had superb views of the entire Forth valley area. Many of the stones from the Garrison were used to build the Inveresk Church built in 1805 which stands on the site of a Roman temple.
The town's 'Roman' bridge was crossed by the English in 1314 after their defeat at the battle of Bannockburn. The bridge as seen today dates back to medieval times.
Bonnie prince Charlie stayed at Pinkie House, now part of the world famous Public school Loretto. Its famous painted gallery is open for viewing by appointment on Tuesday afternoons during term time.
In 1332 The Earl of Moray, the Regent of Scotland and nephew to Robert Bruce was taken terminally ill near Musselburgh and was cared for by the people of the town. In gratitude, his nephew the Earl of Mar, Regent of Scotland awarded the right to include the motto Honestas in the Musselburgh coat of arms. The town is still referred to as the 'Honest Toun' and retains the motto today in its coat of arms.

The people of Musselburgh have always stood up for their beliefs and are a proud and independent community. They even managed to get themselves excommunicated by the Catholic Church and were not reinstated for 250 years!

Fisherrow harbour was the landing place of many of the old fishing fleets from Dunbar to Fife. In the days before motorized transport, the fish were taken as far afield as Edinburgh and the Borders to be sold by the Fisherrow Fishwives. The Fishwives wore distinctive blue and white striped gowns and carried their wares in wicker creels on their backs.

Musselburgh is home to the oldest racecourse in Scotland (1817). It was formerly called Edinburgh Racecourse. Flat racing and Steeplechasing events are held throught the year.

Uniquely, in the centre of the racecourse, is the world's oldest Golf Course.

The British Open Golf Championship was held on The Musselburgh Old Course 6 times between 1872 and 1891.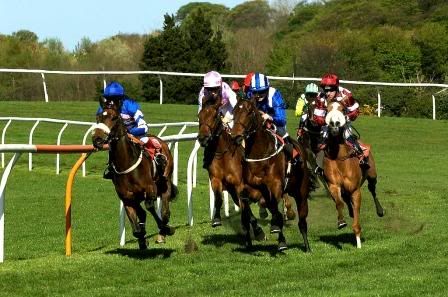 HORSE RACING MUSSELBURGH RACECOURSE
Musselburgh Silver Arrow is the oldest sporting trophy in the world and has been competed for annually since 1677 by the Royal Company of Archers.